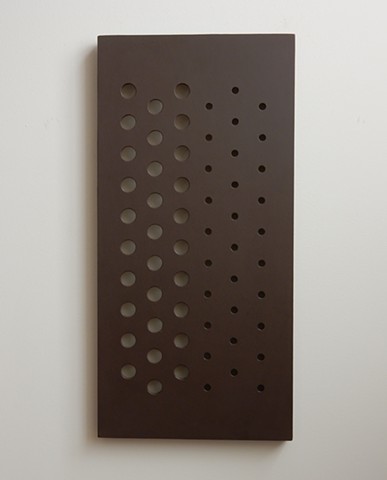 Yaguine Kiota and Fode Tounkara Remembered
Acrylic paint on wood panel.
32-1/2 x 15-3/4 x 1-1/4 Inches
2015
"Yaguine Kiota and Fode Tounkara, were two teenagers from Guinea, found dead in the landing gear of a plane when it landed in Brussels in 1999. A note was found on them… 'Excellencies. We… write this letter to you to talk about the objective of our journey and the suffering of us, the children and young people of Africa. If you see that we have sacrificed our lives, it is because we suffer too much in Africa and need you to struggle against poverty and war. Finally, we appeal to you to excuse us very, very much for daring to write this letter.' …Yaguine and Fode were heard only in death, for while alive they were expected to undertake 'living,' with its grinding poverty and devastating wars, quietly. Instead, their audacity spanned the borders that slice through humanity, and exposed the lie of human solidarity. "
Soguk, Nevzat. 2007. "Border's Capture: Insurrectional Politics, Border-Crossing Humans, and the New Political." In Borderscapes: Hidden Geographies and Politics at Territory's Edge, eds. Prem Kumar Rajaram and Carl Grundy-Warr. Minneapolis and London: University of Minnesota Press, p. 290.