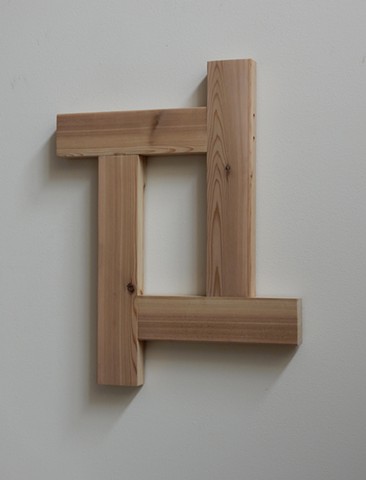 "Anybody there? Anybody here?" (For Raed)
Wood (cedar) with metal fasteners.
22 x 17 x 1-1/2 inches.
2017
There was an explosion… unconscious for a moment. (Was I dead?) Under the rubble I heard from above: "Anybody there? Anybody here?" It was the White Helmets, the Syrian volunteer rescue group, led by Raed Saleh, who "climbed into the rubble and pulled me out…" "Ready to respond, they risk their lives saving thousands of others' – including me."
Source: Abu Faisal, Mustafa, (2017, May 1-8). Raed Saleh: Syria's first responder, in The 100 Most Influential People [Special issue]. Time, 189, 16-17, p. 131.