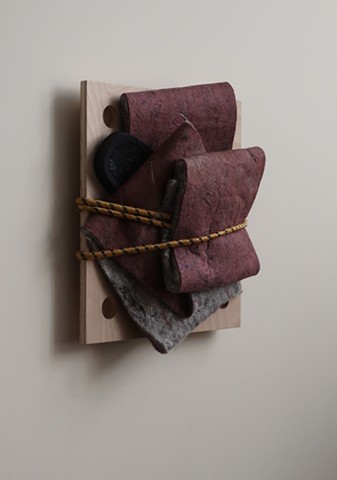 "Will you accept a collect call from… ?"
Felt with flip-flop, rubber sandal on wood panel, bound-up with a bungee cord.
34" H x 11" W x 7" D
2020
Work Informed in reading about persons who survived trauma. To quote Dr. Bessel van der Kolk: "Social support is not the same as merely being in the presence of others. The critical issue is reciprocity: Being truly heard and seen by the people around us, feeling that we are held in someone else's mind and heart. For our physiology to calm down, heal, and grow we need a visceral feeling of safety…."
Source: Bessel van der Kolk, M.D., The Body Keeps the Score: Brain, Mind, and Body in the Healing of Trauma (New York: VIKING, 2014), 79.
With much thanks and gratitude to Prem Krishnamurthy for recommendation of the read.