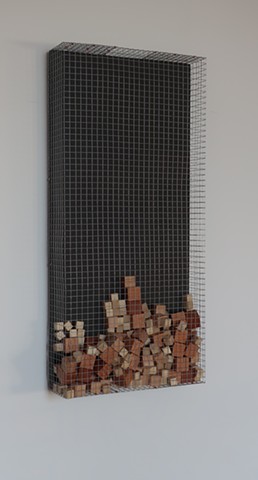 Nine Hundred +
Galvanized steel wire screening with copper & steel fasteners, waxed wood blocks (loose jumble), and acrylic paint on wood panel.
30-1/2 H x 14-1/2 W x 4 D Inches.
2019
Work was informed by the... "More than 900 children, including babies and toddlers, separated from their parents at the border in the year after a judge ordered the practice be sharply curtailed..." per the American Civil Liberties Union's
recent court filing.
Source: https://time.com/5639549/900-children-separated-border-aclu/
Accessed: July 31, 2019