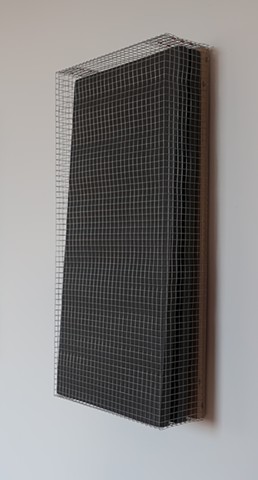 "Hiding from a spirit."
Galvanized steel wire screening with copper & steel fasteners, acrylic paint on wood and foam panels.
30-1/2 H x 14-1/2 W x 5-1/2 D Inches.
2019
Title informed by a stonecut print "Woman Hiding From Spirit," 1968, by Pitseolak Ashoona (1904-1983), Inuit artist. Courtesy of Dorset Fine Arts. Seen in the Portland Art Museum's Center for Contemporary Native Art Exhibition: Akunnittinni: A Kinngait Family Portrait, June 22, 2019 - January 5, 2020.