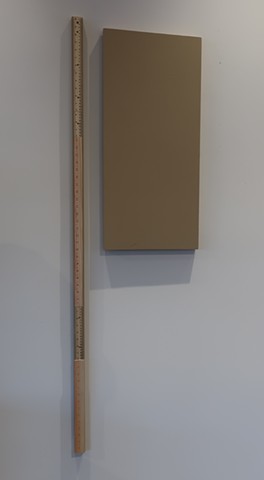 "What kind of world do you want… want to create?"
Acrylic paint on wood panel… plus assorted wooden rulers on acrylic painted wood. A two-piece set.
60-3/4 H x 18 W x 1-1/4 D Inches.
2019
Informed by the Polish-American architect, Daniel Libeskind's (b. 1946) response in describing the client/architect relationship: "I enjoy working with clients. I like to ask the client, 'What do you want? What kind of world do you want to create?' …it enriches the possibilities to draw the client into their own visions, their own dreams." In Paul Goldberger, Counterpoint: Daniel Libeskind, In Conversation with Paul Goldberger (New York: The Monacelli Press a div. of Random House, Inc., 2008), 8.